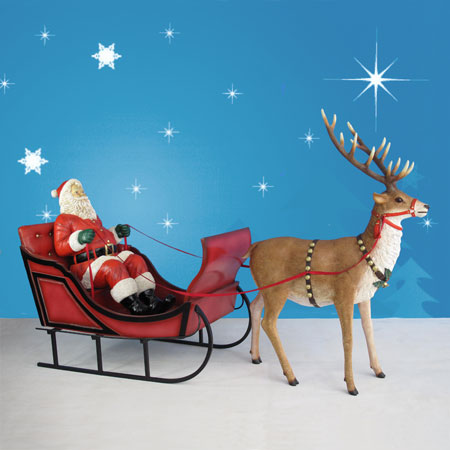 Originally Santa's Sleigh had eight reindeer – Dasher, Dancer, Prancer, Vixen, Comet Cupid, Donner and Blitzen. This was according to the 1823 poem by Clement C. Moore "a Visit from St. Nicholas" or "The Night before Christmas". Then Rudolph (the red-nosed reindeer) was added. Rudolph comes from a story originally written by Robert L. May about a foggy Christmas Eve, when Santa lost his way and Rudolph helped find the way with his red lighted nose.
Here is our own version of a modern Santa, Sleigh and Reindeer Story:
There are so many good Children around the world today, that there is no way Santa and his nine Reindeer can reach them all on Christmas eve. So Santa Claus sent the elves to university to learn how to build aircraft. When the elves returned to the North Pole the first thing they did was build an amazing aircraft factory beside the Toy Factory. Here they developed a huge hypersonic jet, which they called Santajet X-12-25 which flies faster than the speed of sound. This jet can hold 500 reindeer, 55 Sleighs and Santas. And there's provision for a extra deck in case there are more good children in further years who will want Santa to deliver them gifts on Christmas Eve.
While the elves were building the Santajet X-12-25, Santa travelled around the world interviewing men to become junior Santas. He recruited 60 junior Santas. They spent several years training with Santa and now 55 of them are ready to become full-fledged Santas.
Santa also started a reindeer breeding program. And now there is Dasher 1, Dasher 2, Dancer 1, Dancer 2 , Dancer 3 and so on – 500 reindeer in all to pull 55 sleds next Christmas. And all of this was happening while a team of Elves built 55 new Sleighs.
Next Christmas there will be 55 Santa Sleigh teams travelling in the Santajet X-12-25. Each Santa Sleigh and Reindeer team will disembark the Santajet in a different part of the world and deliver gifts to all of the children, who have been good, in that region on Christmas Eve.
So be prepared, Children, for a modern Santa delivery process. You will have to send your Christmas toy list to a special email address at the North Pole. All children who are good this year will receive the email address via email to theirs or their family's computer. If you're a kid without a computer in your family you can go to the library and use a computer there. If you've been a naughty kid, it may not be too late to be good – but you'll have to work very had at it.
Note: This is fiction, everything in this story is from the imagination of our writers and not to be taken literally. It is not meant to change anything about all the Santa Sleigh and Reindeer stories that came before our story.